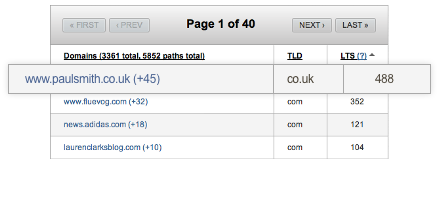 Only Chase the Best Opportunities
Our Link Target Score algorithm floats the best link opportunities to the top of your prospect list to ensure that you don't waste time chasing links that won't improve your rankings.
---
Proven Link Building Techniques
Identify your keywords, and use our presets to discover thousands of link building and outreach prospects. Use our Link Target Score to sort the good from the bad, and ensure you're spending your time effectively.
Use our Presets to Find Opportunities From…
Guest Posting

Discover blogs who allow guest posts and offer your writing services.

Links Pages

Find the resource and links pages where you can add your site.

Content Promoters

Find writers who are likely to cover your story, or repost your infographics and articles.

Reviews

Look for people who review products or services in your space.

Giveaways

Offer goods and services in exchange for coverage.

Donations

Be charitable and earn links through sponsorship opportunities.

Commenting

Find the posts relevant to your key phrases. Join the conversation, and link to your site.

Expert Interviews

Identify domain experts you can interview, or pitch your own expertise.

Directories

Identify quality directories to help you get your site listed quickly.

Forums

Add value to the conversation and build brand equity.

Topical Blogs

Pinpoint the blogs that cover your industry, and are likely to post about your site.

Professional Organizations

Locate trades and professional organizations you can join.
How it Works
---
Advanced Tools for Link Building Pros
If you're already finding links like a boss the Link Prospector will help you speed up your workflow. Enter your key phrases and we'll find thousands of results in just a few minutes. Single out your top prospects and easily export them to CSV or Buzzstream.
Export your results and incorporate them into your existing workflow
---
Additional Features
Raven Integration

Export your report data into Raven with ease.
---
Expert Testimonials